Good Cooler
Good Cooler
Ding Heng

Wuxi, China

20 days

1000 units per year
ZXZ-H Series have been developed since 2003, with cooling capacities ranging from 50 to 150 tons/ unit/ hour.
1. the internal cycle: hot water flows from the industrial equipment into the cooling tower cooling coil, the cooling coil through the heat into the outside, after cooling the circulating water from the pump to the device.
2. external circulation: driven by the spray pump, spray water from the sink to the sprinkler system, after the water jet cooling coil contact with the heat exchange, part of the hot steam through the fan discharge, the spray water after cooling fell to Sink again after the cycle.
Product parameters

The data sheet is base on wet-bulb temperature 28℃(82.4℉),and the temperature drop is 5℃(41℉).
and the tower can be customized basic on customer need.
working principle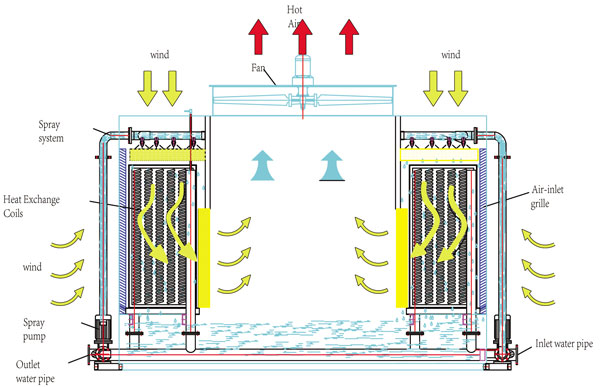 During the operation of this series of cooling towers, the wind enters from the inlet grilles on both sides of the bottom of the tower and traverses horizontally through the cooling coils. Sprinkler system above the cooling coil, spray water from top to bottom contact with the cooling coil. Because the wind is traversing the cooling coil, it is called a cross-flow cooling tower.
Product Structure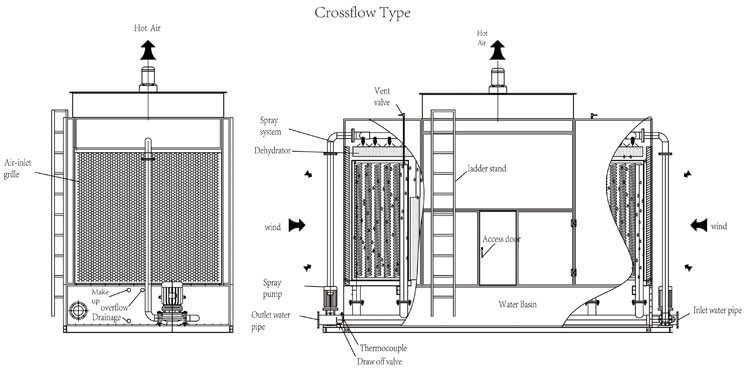 Advantages of ZXZ-H series cooling tower:
1. The closed loop cooling medium to prevent debris into the cooling piping system and cooling medium
evaporation loss.
2. Use soft water as a cooling medium, no fouling, no blockage of pipeline, less malfunction.
3. The use of air-cooled and spray water evaporative double cooling, high cooling efficiency.
4. The device is small, small footprint, easy to move and place, without the need to build the pool.
5. The use of intelligent automation control, according to the conditions automatically change the cooling
mode, the operation is simple and reliable.
6. This type of closed cooling tower will have filler inside, will increase the cooling effect.
7. This type of cooling tower is generally equipped with access doors to facilitate the maintenance of the equipment.
8. Wide use, can be directly quenching liquid, oil, alcohol and other non-corrosive effect on the heat exchanger
medium, medium lossless, stable ingredients.
Application:
The products are widely used in Aerospace, Electronics, Instrumentation, Textile, Refrigeration units, Constant
temperature and humidity, Casting, Forging, Quenching liquid, Melting furnace, Mold, Continuous casting machine,
Rolling mill, Heating furnace, Electric arc furnace, Central air conditioning, Heat pump, Air compressor, Hydraulic oil,
Injection molding machine cooling and other fields.